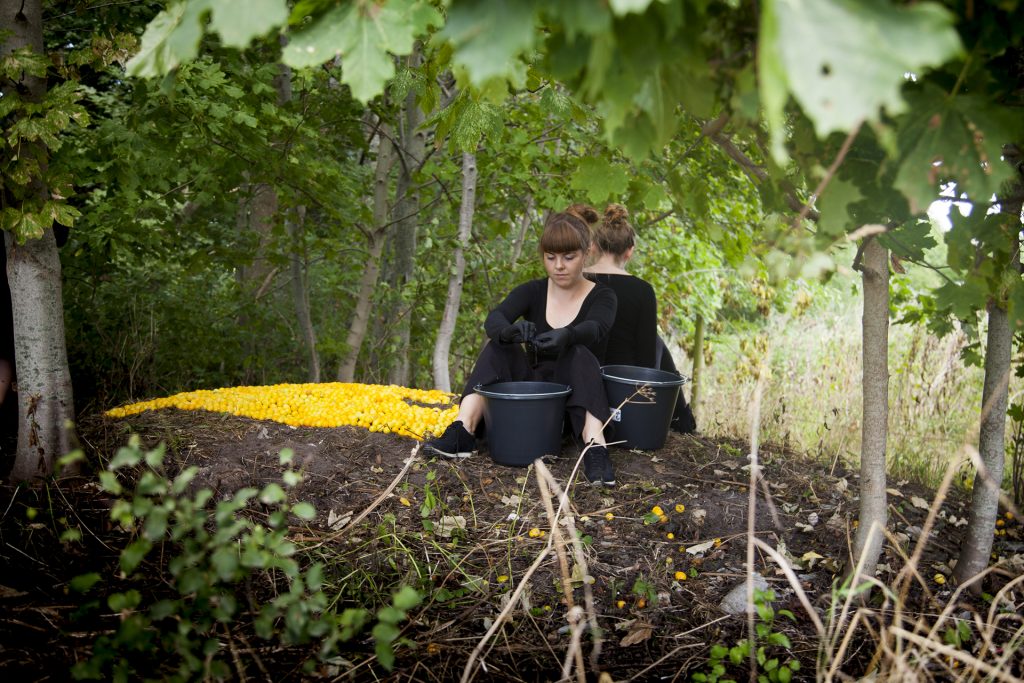 Stedsspecifikke værker Freja Englund Brøndal og Natascha Stjerne Vogel. Kunsthøjskolen i Holbæk 2018. Foto: JLSchou
Workshops
Mette Kit Jensen har gennem mange år holdt workshops og lavet undervisningsforløb på kunsthøjskoler, museer og billedskoler. Desuden har hun holdt foredrag og workshops på kunstakademier, arkitektskoler, for museumsfolk og billedkunstlærere. Projekterne ligger i forlængelse af hendes kunstneriske praksis, ambitionsniveauet er det samme og tilpasses hver gang målgruppen, situationen og stedet. 
Undervisningsforløbene kan f.eks have følgende fokus:
Stedsspecifikke værker - undersøgelser og bearbejdning af steder
Tekstværker - om forhold mellem sted, sprog, indhold og form
Walks i det offentlige rum - om strategier til at bryde rutiner i byrummet.
Herunder ses et udvalg af de mange projekter
----
Workshops
Mette Kit Jensen has for many years held workshops and classes at art folk high schools, museums, childrens art schools and primary schools. In addition, she made lectures and inspiration courses at art academies, schools of architecture and for museum staff and art teachers.The projects are an extension of her artistic practice and are adjusted each time in accordance with the participants in the given situations and contexts.
The teaching courses may have the following focus:
Site-specific works - research and processing on location
Text works - about relationships between place, language, content and form
Walks in the public space - on changing routines in public space.
Below is a small selection of the many projects.