Go back to the tipsy walk index
xmas2

//scroll down for english//
Spicy X-Mas Walk
I forbindelse med gruppeudstillingen 12-7-1
Mønsterbageriet i Haraldsgade 64
København DK
Publikum blev bedt om at gå ud på gaden. Mette Kit Jensen stod med kokkehue på ved et bord ved vinduet og forklarede konceptet via silent movie-agtige skilte gennem ruden. Derefter skulle interesserede komme ind og vælge en bageform og et krydderi: kanel, jordbærpulver, kakao eller lakrids. Formen blev nu placeret på et kort over lokalområdet og indersiden blev malet op med krydderi opløst i vand. Derefter begav deltagerne sig ud i gaderne idet ydersiden af formen udgjorde ruten. Tilbage i bageriet blev kortene forsynet med guldfarvet underskrift, datostempler og stempler med julemotiver.
---
Spicy X-Mas Walk DK
In connection with the group exhibition 12-7-1
Pattern Bakery in Haraldsgade 64
Copenhagen DK
The audience was asked to go out on the sidewalk. Mette Kit Jensen stood inside with a chef hat on at a table by the window and explained the concept via silent movie-like signs through the pane. Those who were interested came in and choose a baking tin and a spice: cinnamon, strawberry powder, cacao or licorice. The mold was then placed on a map of the local area and the inside was painted with spice dissolved in water. Then the participants went out into the streets using the outline of the mold as a route. Back in the bakery, the cards were equipped with golden signature, date stamps and stamps with Christmas motifs.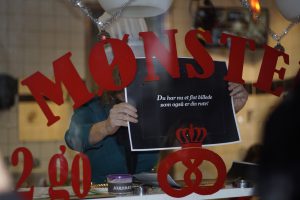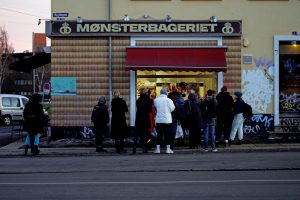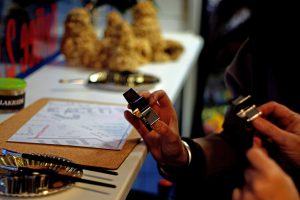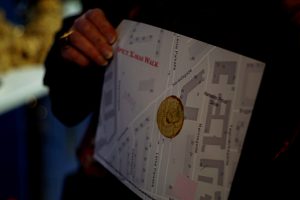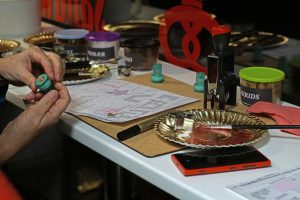 Photos: Thomas Gniben
This slideshow requires JavaScript.