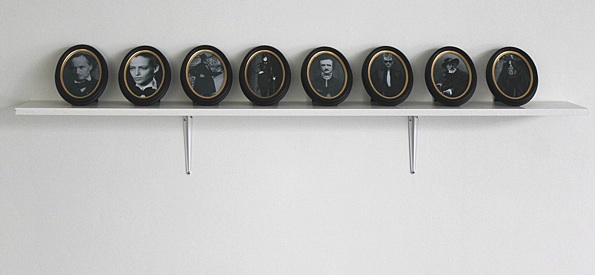 Photoes of 1800s male artists flâneurs and female fashion models from 2012.
///scroll down for english///
Flâneuse, Musee de l Éurope
REaction!!! –Storbykunst på landet.
Vestjyllands Kunstpavillon, juni-juli 2013
SE MERE:
På denne udstilling viste kunstnere fra Hamburg, København og Berlin forskellige projekter som gik i dialog med den moderne metropol.

Mette Kit Jensen har over længere tid personificeret en flanør, en kunstnerfigur fra 1800 tallets Paris som drev rundt i gaderne i et forsøg på at komme tættere på virkeligheden. Hun realiserer en kvindelig version, en "flanøse" som rejser til verdens storbyer, beskriver dem fra gadeplan og fortolker møder og episoder litterært og skulpturelt. 

Autentiske beretninger fra alverdens byrum kunne ses på udstillingen i form af tekstværker der indgik et musealt univers af fundne og let bearbejdede readymades, forfængelighedsobjekter inspireret af fortid og nutid.

Installationen var støttet af Statens Kunstråds billedkunstudvalg og 
Grosserer L.F. Foghs Fond
Udstillingen var støttet af Rethink2017
Udstillingen var kurateret af Mette Kit Jensen i samarbejde med Thomas Wolsing.
Deltagende kunstnere: Mette Kit Jensen, Morten Sørensen (begge København), Kerstin Stoll, Jelka Plate (begge Berlin) og Markus Lohmann (Hamborg)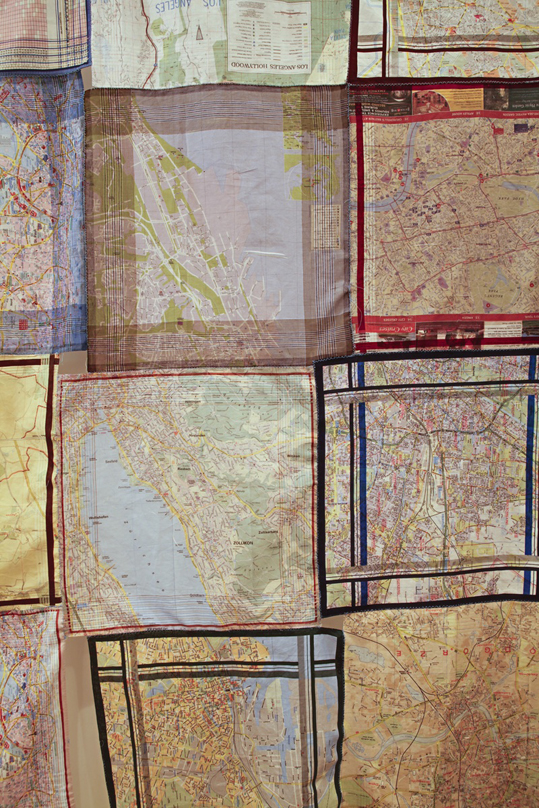 Carpet made out of handkerchiefs with city maps.
- According to Walther Benjamin it was fashion around 1860
to wear a handkerchief with a map of Paris printed on it.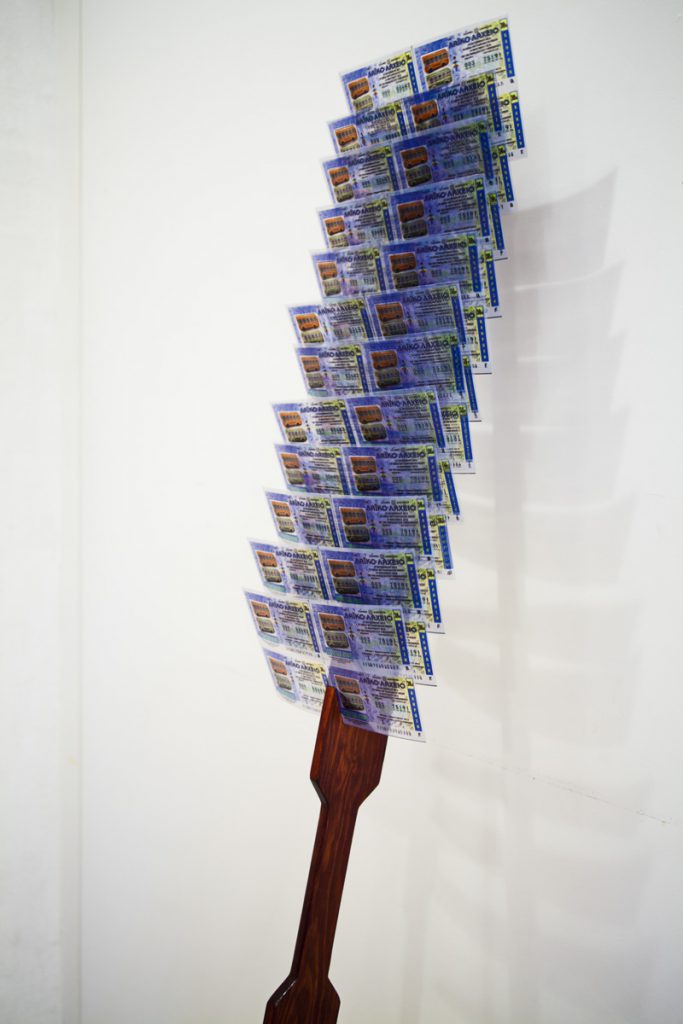 Sculpture inspired of greek lotto sticks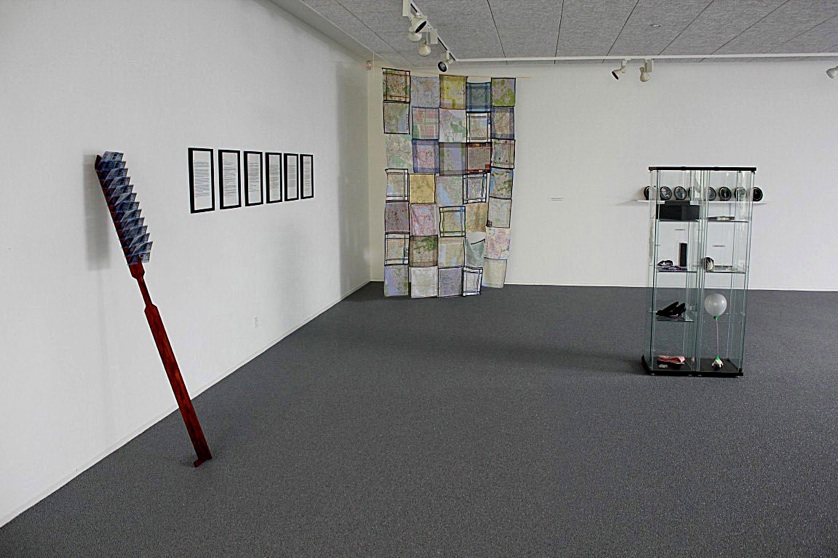 Room view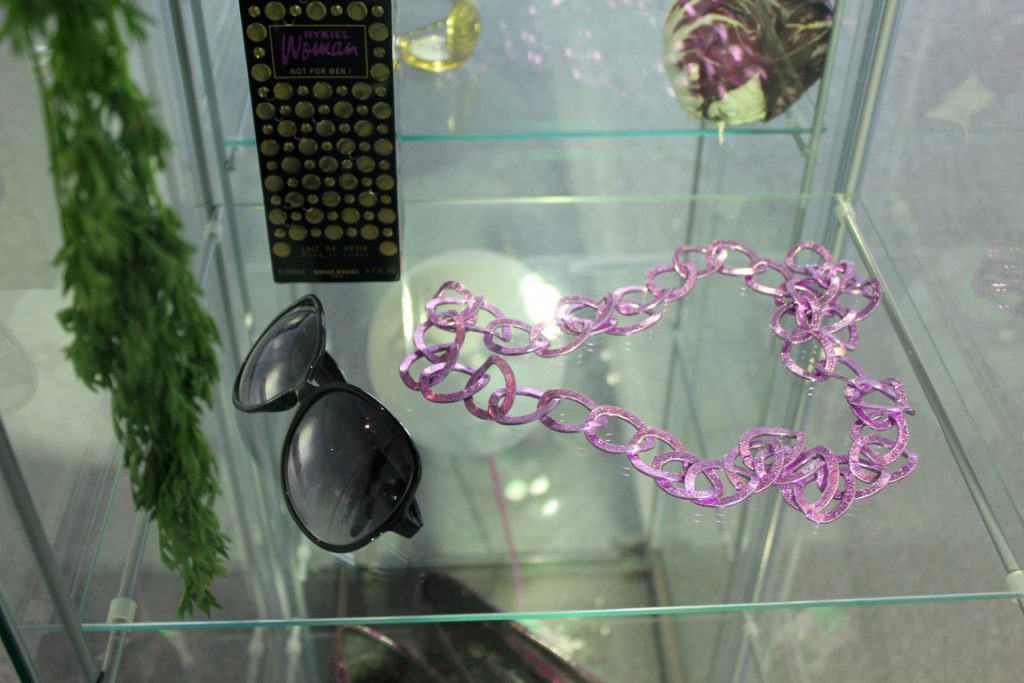 Detail 
---
"Flâneuse, Musee de l Éurope"
REaction!!! – Urban art in the countryside.
The Art Pavilion of West Jutland, June-July 2013
SEE MORE: 

In the pavilion artists from Hamburg, Copenhagen and Berlin exhibited different projects that were in dialogue with the prevailing Metropolis. 

For a period of time Mette Kit Jensen has personified the flâneur, a 19th Century artist character from Paris, who would aimlessly roam the streets in an attempt to get closer to reality. She embodies a female version, the "flâneuse", who travels to the major cities of the world, describing them from street level, and interpreting her encounters through words and sculptures.
The exhibition was curated by Mette Kit Jensen in cooperation with Thomas Wolsing. Artists: Mette Kit Jensen (Copenhagen), Morten Sørensen (Copenhagen), Kerstin Stoll (Berlin), Jelka Plate (Berlin) og Markus Lohmann (Hamburg)