October 2018
///Scroll down for english
"Forsvindingsværk", Skulptur 2018 Extra, Greve Museumshave 27 maj-21 oktober 2018
"Da jeg var barn ved Greve Strand i 70érne, var min nu afdøde mor i en årerække optaget af at batikfarve familiens hvide tøj i stærke farver. Når mine søstre og jeg kom hjem fra skole hang vores tøj på tørresnoren i nye farver."
Værket bestod af forskellige hvide tekstiler syet sammen til et tæppe og indfarvet i en grøn farve som gik i et med naturen. Tæppet hang på en vasketøjssnor mellem træerne i museets have. Nogle af stofferne havde naturmønstre og der er var klippet huller i, således at man kunne se træerne  igennem. Værket hang i museets have hen over foråret, sommeren og vinteren og mistede sin farve med tiden.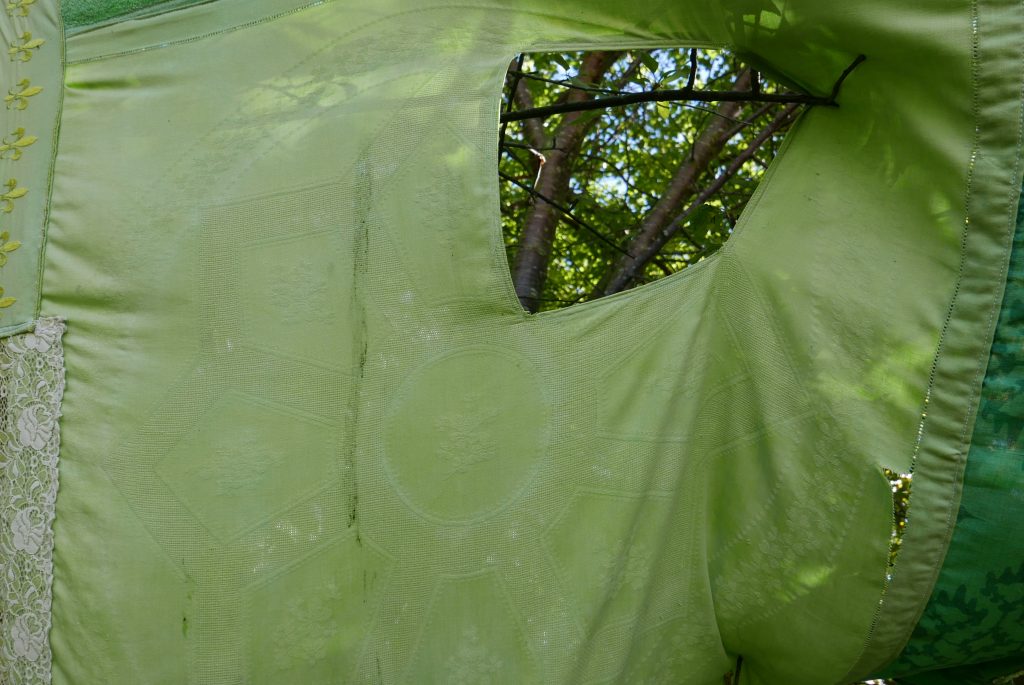 October 2018
"Work of Disappearance", Sculpture Extra, Greve Museum´s Garden 27 May-21 October 2018
"When I was a child in Greve in the 70's, my late mother had a habit of batik colouring the
family´s white clothes in bright colours. When my sisters and I came home from school our
clothes on the clothesline were in new colours."
The work consisted of different white textiles sewn together into a blanket and dyed in a
green color similar to nature. The rug hung on a laundry line between the trees in the museum
garden. Some of the fabrics had patterns of nature and the rug had holes to see the trees through.
The work hung in the garden of the museum over spring, summer and winter and lost its colour
over time.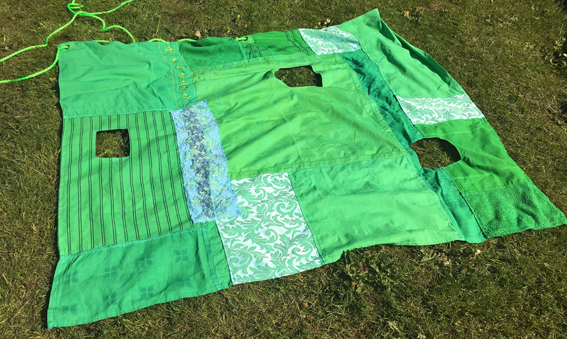 May 2018