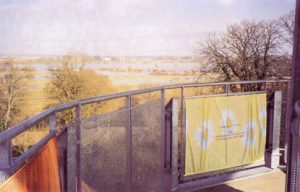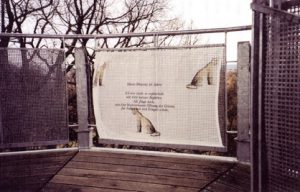 ///scroll down for english///
Der erste Besuch auf der anderen Elbseite
(Det første besøg på den anden side af Elben)

Elbschloß Bleckede, Künstlerstätte Schloß Bleckede. DE 2003

Januar – april 2003 opholdt jeg mig på kunstnerresidenc Bleckede. Ved at studere de lokale arkiver opdagede jeg, at floden udenfor mit vindue tidligere havde fungeret som grænse mellem Øst og Vest Tyskland. I de 40 år den havde delt landsbyen havde det været forbudt og forbundet med højeste livsfare at krydse floden. Jeg satte mig derfor for at undersøge hvorledes befolkningens forhold til landskabet var blevet præget af de tabuer som historiske begivenheder havde affødt. Jeg interviewede nu folk fra begge sider af floden for at høre om deres tanker og følelser den dag de for første gang fik lov at krydse floden. Udvalgte sætninger blev nu trykt på gardiner og ophængt i det lokale udsigtstårn hvorfra man kunne se begge flodbredder.Eksempler:
Kvinde, Vest:
Pludselig boede jeg midt i Tyskland og jeg er faktisk typen,
som helst sætter mig i et hjørne når jeg går på cafe
Kvinde, Øst:
Jeg vendte mig hele tiden om og kiggede på grænsevagterne og tænkte:
Hvorfor gør I ikke noget - så skyd os dog!
Mand, Vest:
Jeg ventede hele tiden på at der skulle lyde et brag
og at det hele så bare var noget jeg havde drømt...
Kvinde, Øst:
Faktisk var det svært at forstå,
at grænsen var forsvundet i løbet af natten
og man bare kunne bevæge sig frit i vestlig retning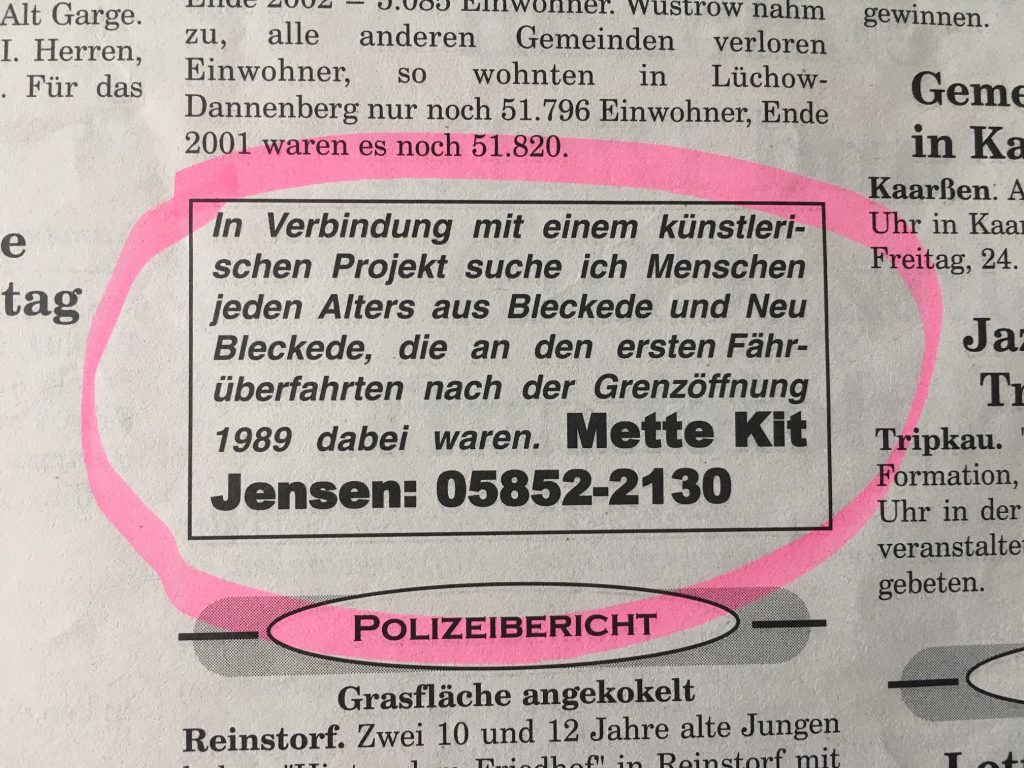 ---
Der erste besuch auf der anderen Elbseite
(The first visit to the other side of the Elben)

Elbschloß Bleckede, Kunstlerstätte Schloß Bleckede. DE 2003

From January to April 2003 I lived at Bleckede, an artists' residence. While studying the local archives I discovered that the river outside my window had previously defined the border between East and West Germany.  During  the 40 years the river had divided the village it had been forbidden,and associated with life threatening danger  to cross the river. I therfore decided  to examine  how the residents' relationship to the surrounding landscape had been affected by the taboo this  historic course of events  had created. I interviewed people from both sides of the river to hear their thoughts and feelings regarding the first day they had been  allowed to cross the river.  I then chose sentences  to be printed on curtains that were  hung up in  the local  viewing towers where one could  see both sides of the river.