"Den Erotiske Hamster" ("The Erotic Hamster") "Solidaritetssalonen", Rønnebæksholm DK 2019
/// SCROLL DOWN FOR ENGLISH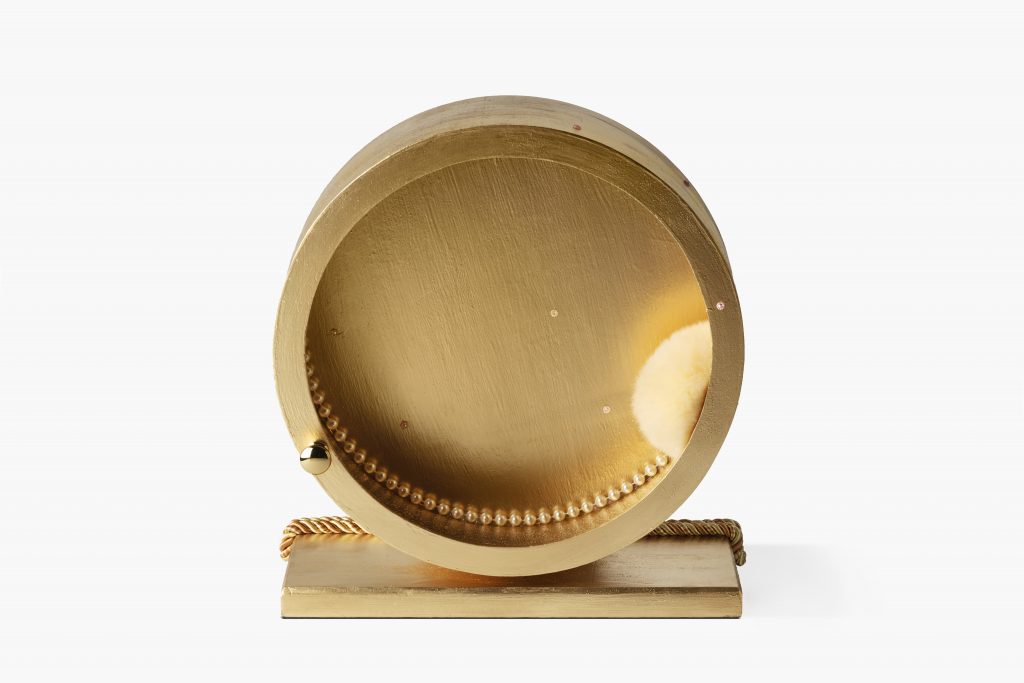 Photo: Dorte Krogh
Object . "Den Erotiske Hamster" ("The erotic Hamster") - after a novel by danish writer Thit Jensen).
Wooden hamster wheel, gold paint, curtain fringes, plastic pearl necklace, rhinestones, brass handle, acrylic tassel 30x28x8 cm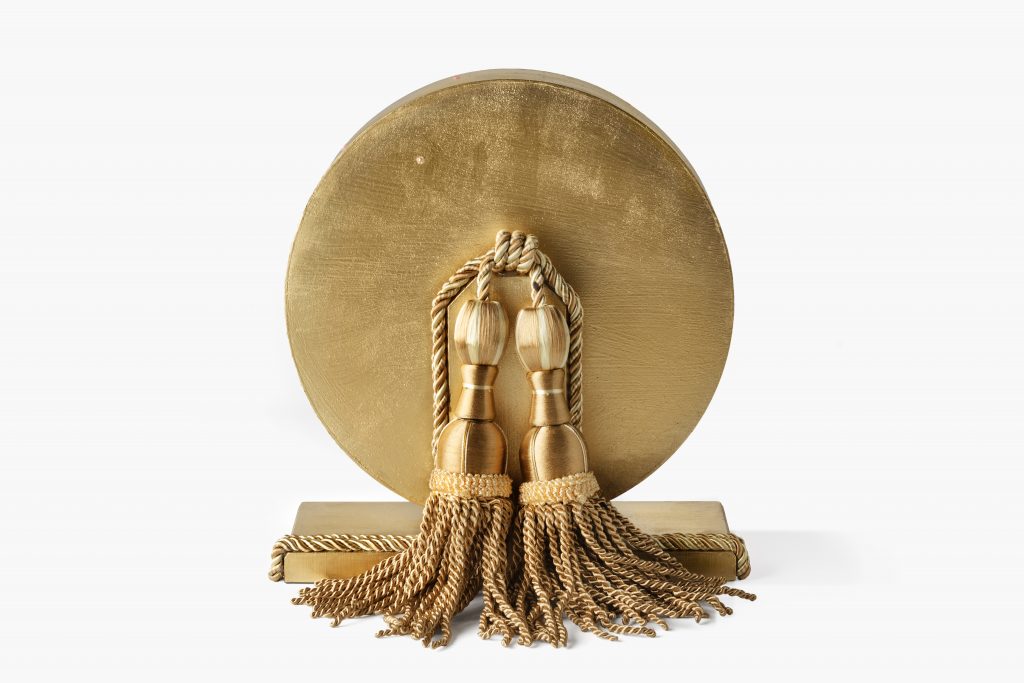 Photo: Dorte Krogh
Anita Jørgensen, Anita Viola, Anja Franke, Anna Fro Vodder, Anna Weber Henriksen, Anne Marie Ploug, Astrid Kruse Jensen, Birgitte Støvring, Bodil Brems, Britt Smelvær, Camilla Berner, Camilla Nørgård, Camilla Thorup, Carina Zunino, Cecilia Westerberg, Charlotte Grum, Charlotte Haslund-Christensen, Christina Capetillo, Christina Hamre, Elle Klarskov Jørgensen, Ester Fleckner, Eva Öhrling, Fie Norsker, Gitte Bach, Gudrun Hasle, Hanne Lange Houlberg, Henriette Camilla Hansen, Hesselholdt & Mejlvang, Hjördis Haack, Isabel Berglund, Jane Maria Petersen, Jeanette Land Schou, Jeannette Ehlers, Jette Debois, Jette Ellgaard, Julie Nord, Jytte Rex, Karen Gabel Madsen, Karen Havskov Jensen, Karin Lorentzen, Kathrine Ærtebjerg, Katja Bjørn, Katrine Malinovski, Kerstin Bergendal, Kirsten Dufour, Kirsten Klein, Kirsten Schauser, Kristine Djurhuus, Lea Boruszek, Lene Bennike, Lilibeth Cuenca Rasmussen, Lisa Strømbeck, Lise Blomberg, Lise Nørholm, Lise Seier Petersen, Lise-Lotte Elley, Lotte Agger, Maj Horn, Malene Bach, Malene Hartmann, Malene Landgreen, Marianne Jørgensen, Marika Seidler, Marit Benthe Norheim, Melou Vanggaard, Mette Gitz -Johansen, Mette Høyen Andersen, Mette Kit Jensen, Mette Ussing, Mette Winckelmann, Michelle Eistrup, Mie Mørkeberg, Milena Bonifacini, Molly Haslund, Nanna Debois Buhl, Nanna Gro Henningsen, Nanna Lysholt Hansen, Natalie Megard, Olga Benedicte, Paule Ducourtial, Pernille Kløvedal Helweg, Randi & Katrine, Regitze Engelsborg Karlsen, Simone Aaberg Kærn, Siri Kollandsrud, Sophia Kalkau, Sys Svinding, Tina Enghoff, Tina Marie Nielsen, Tine Hecht-Pedersen, Toni Larsen, Trine Boesen, Trine Søndergaard, Ursula Reuter Christensen, Vibeke Glarbo, Vibeke Mencke, Vicky Steptoe, Viera Collaro, Vinyl -terror & -horror, Zuhra Hilal, Åse Højer.

Solidaritetssalonen var kurateret af gruppen Efterkommere bestående af Annette Skov (f. 1965), Gerda Thune Andersen (f. 1932), Nina Maria Kleivan (f. 1962), Pernelle Maegaard (f. 1952), Tine Kjølsen (f. 1959) og Vibe Bredahl (1974) i forbindelse med deres udstilling Taletid på Rønnebæksholm.

100 kvinder var inviteret med på udstillingen som blev indledt med en performativ ophængning. TALETID 
Tak til Dansk Tennisfonds Kunstnerhus i Gudhjem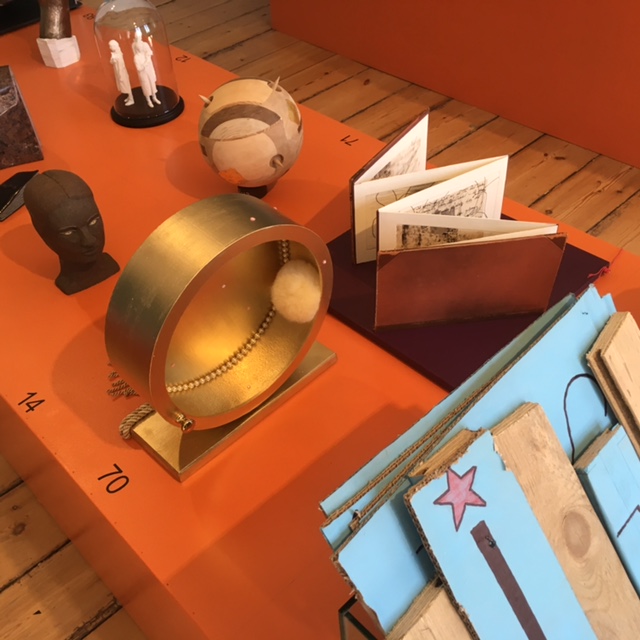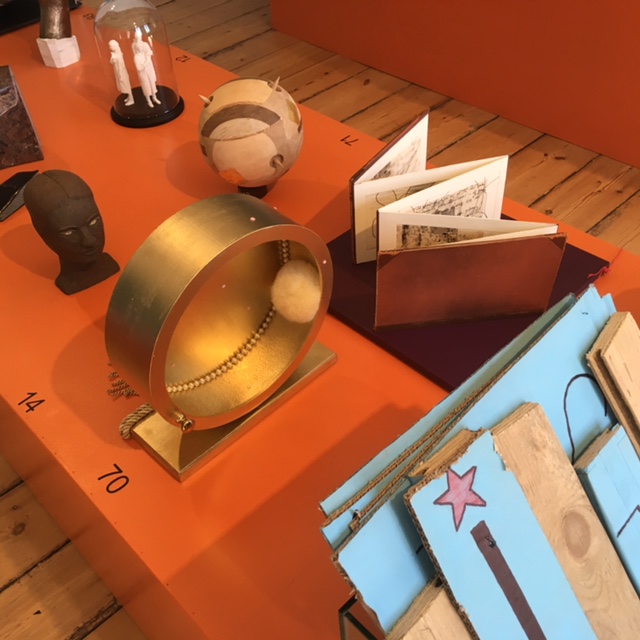 Photo: Tine Kjølsen
PERFORMANCE  -  Filmed by Jeanette Schou
The Solidarity Salon was curated by the group "Efterkommere" (Descendants) consisting of Annette Skov (b. 1965), Gerda Thune Andersen (b. 1932), Nina Maria Kleivan (b. 1962), Pernelle Maegaard (b. 1952), Tine Kjølsen (b. 1959) and Vibe Bredahl (1974) in connection with their exhibition Taletid at Rønnebæksholm. 100 women were invited to the exhibition, which began with a performative suspension.