// SCROLL DOWN FOR ENGLISH

"A Walk In The Park", THE GREAT OUTDOORS Skovhuset Kunst & Natur DK 2022
Birgert & Bergström, Jesper Dalgaard, Bjørn Pierri Enevoldsen, Mette Kit Jensen, Lilibeth Cuenca Rasmussen, Studio Thinkinghand.
https://www.skovhus-kunst.dk/udstillinger/great-outdoors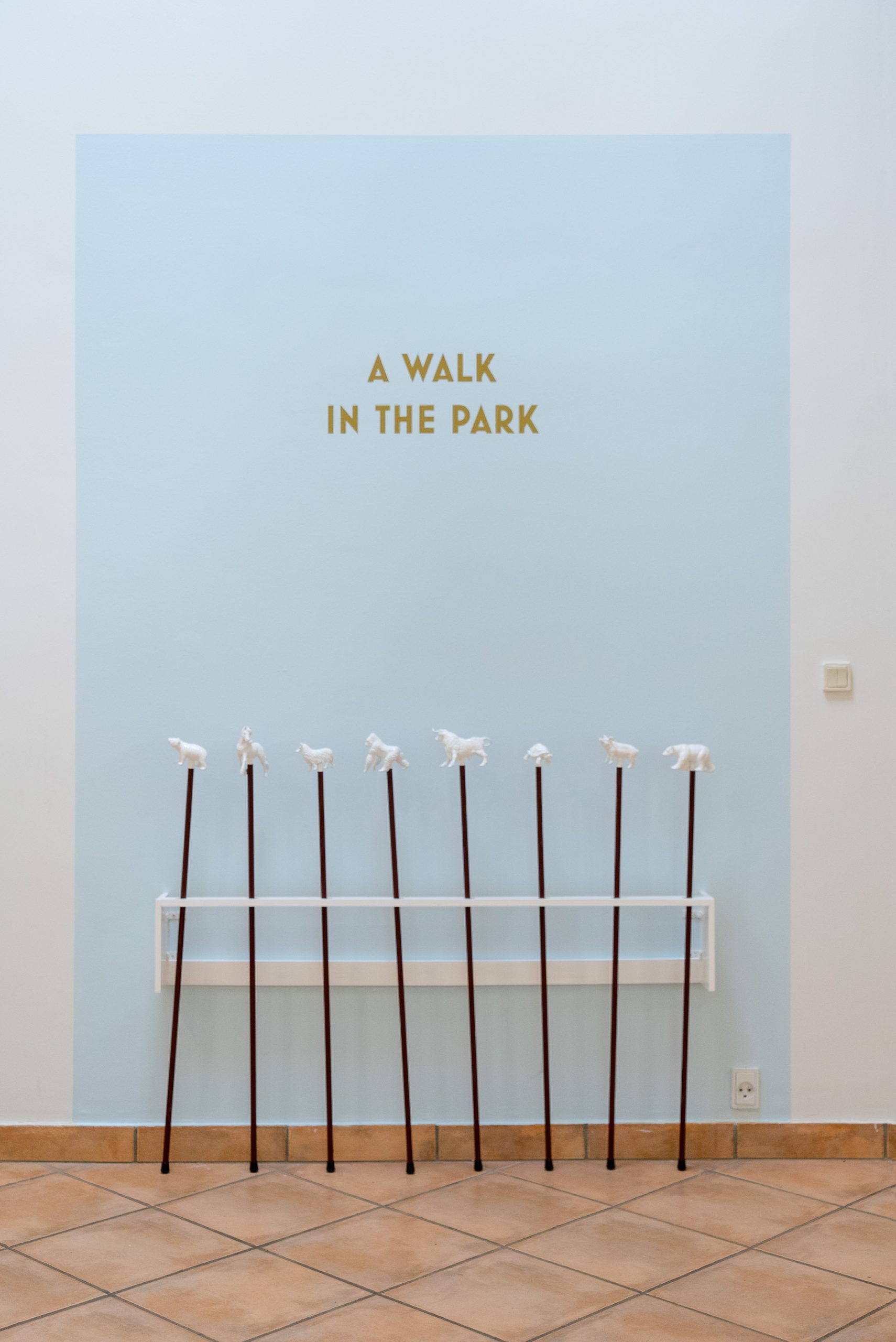 Photo: Bastian Birk Thuesen

"A Walk In The Park" er et meget enkelt og åbent kunstværk, som involverer folk, får dem til at forlade bygningen og gå på opdagelse i naturen omkring SKOVHUSET. 

Ved udgangen foran receptionen står en samling stokke med dyrehoveder i et aflangt stokkestativ. Publikum kan mod pant låne en spadserestok og opfordres herefter til at forlade bygningen og gå på opdagelse i omgivelserne. 

Udstillingen "The Great Outdoors" handler om vores forhold til naturen og værket udspringer af traditionen for at ældre elegante spadserestokke til urbane gåture er udstyret med dyrehoveder der relaterer sig til vild natur. 

Værket er enkelt (a walk in the park). Mange af os går tur i parkerne med vores iPhones og fotograferer vegation og sjove episoder. Hvilke associationer og nye billeder kan vi få, når vi går tur i skoven med en spadserestok, flanøsens/flanørens elegante accessoire? Ved at tilføre et fiktivt element til gåturen bliver det muligt at fremhæve eksisterende vegetation og ynglingsspots i skoven og lege sig frem til nogle nye. 

Stokken har dobbeltkarakter af nyttegenstand og elegant attribut, den tilbyder støtte men også mulighed for at posere og bliver dermed et humoristisk billede på vores lidt akavede forhold til naturen. Vi forlader sjældent de vante stier i skoven og flytter ikke så ofte vores blik fra det mest åbenlyse. Måske kan stokken blive en krykke som kan hjælpe os til at glemme rutiner og hjælpe os igennem et krat og på tværs af stier? 

Håndtagene er lavet af second hand plastik legetøjsdyr fundet på utallige spadsereture til loppemarkeder, Dyrene er derefter er blevet malet og lakeret.

Ved aflevering af stokkene får publikum udleveret et lille visitkort med et stempel som bevis for gåturen. De opfordres til at lægge billede og tekst på instagram til inspiration for andre spadseregængere. 

Værtinderne i skovhuset medvirkede i en workshop i skoven, hvorefter de lavede en serie manualer der foreslog gåture for publikum.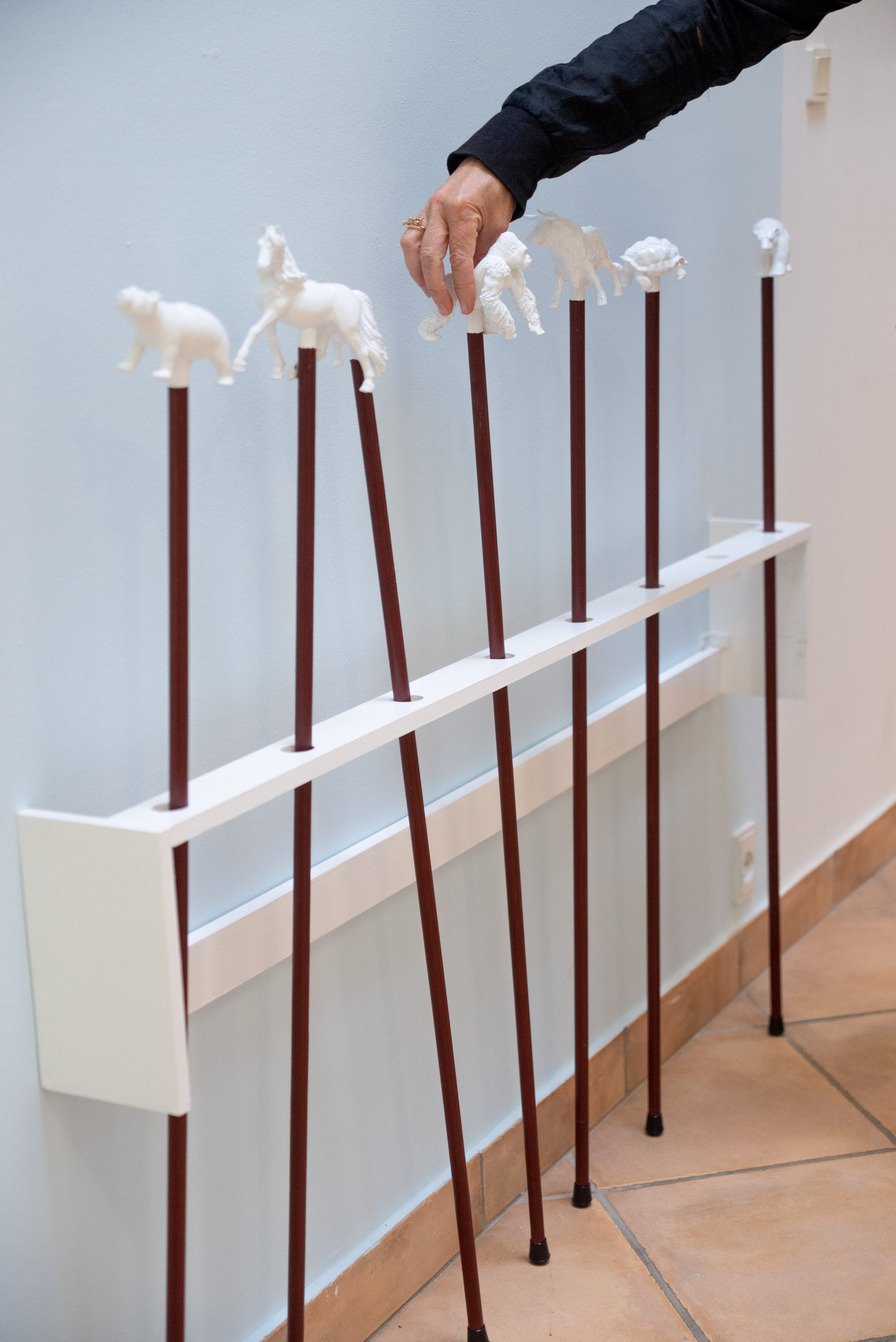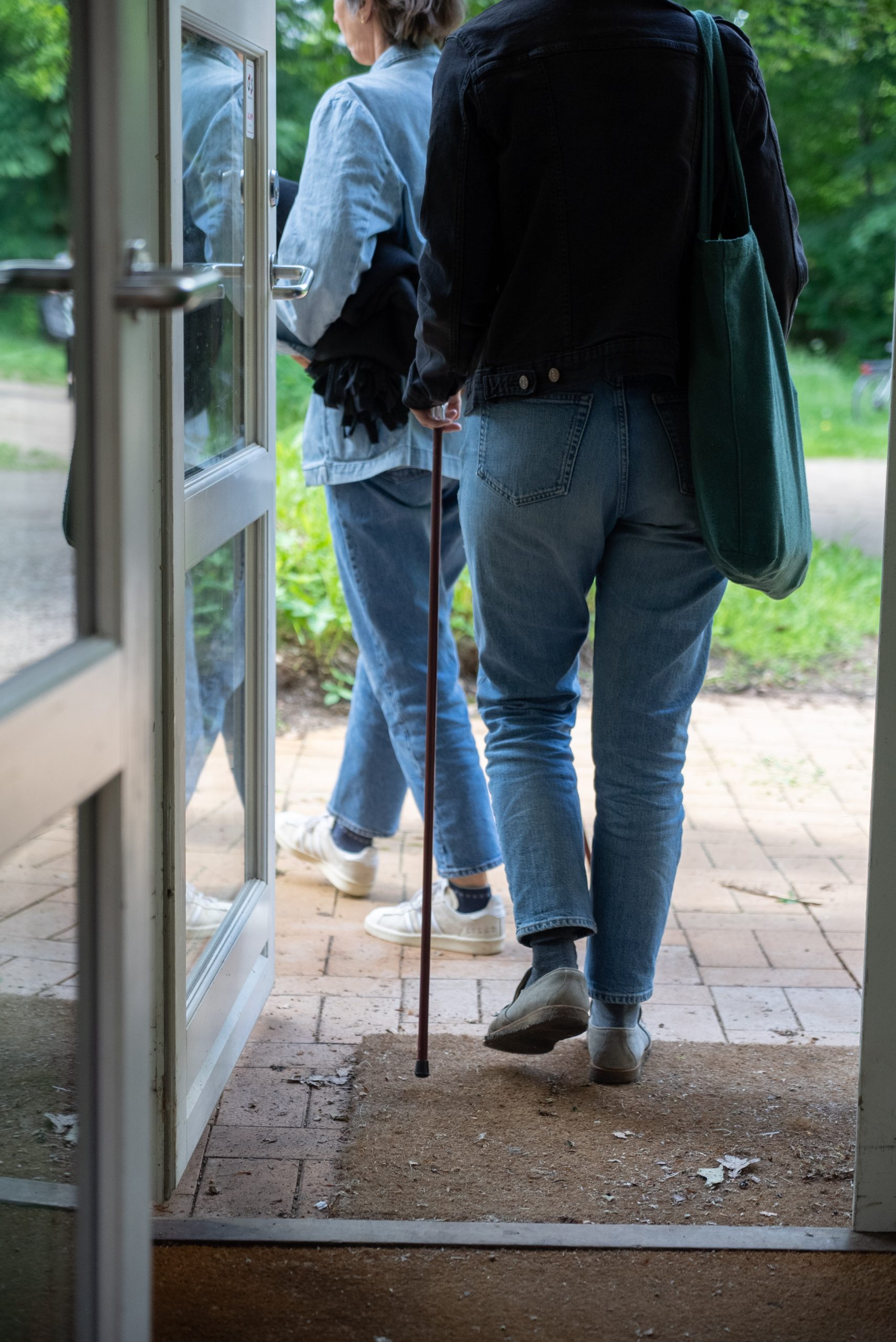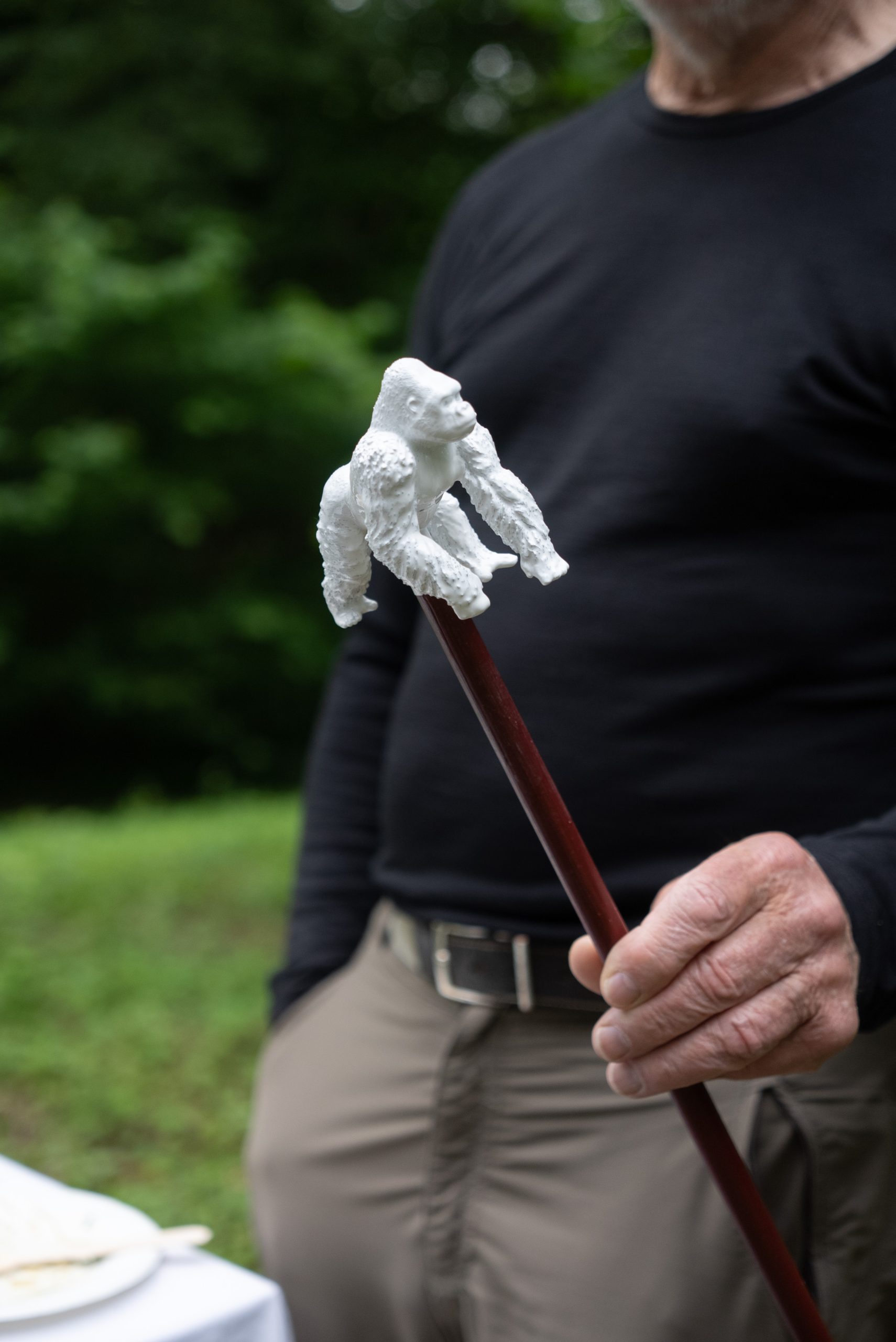 Photos: Bastian Birk Thuesen
—
"A Walk In The Park", THE GREAT OUTDOORS Skovhuset Art & Nature DK 2022
Birgert & Bergström, Jesper Dalgaard, Bjørn Pierri Enevoldsen, Mette Kit Jensen, Lilibeth Cuenca Rasmussen, Studio Thinkinghand.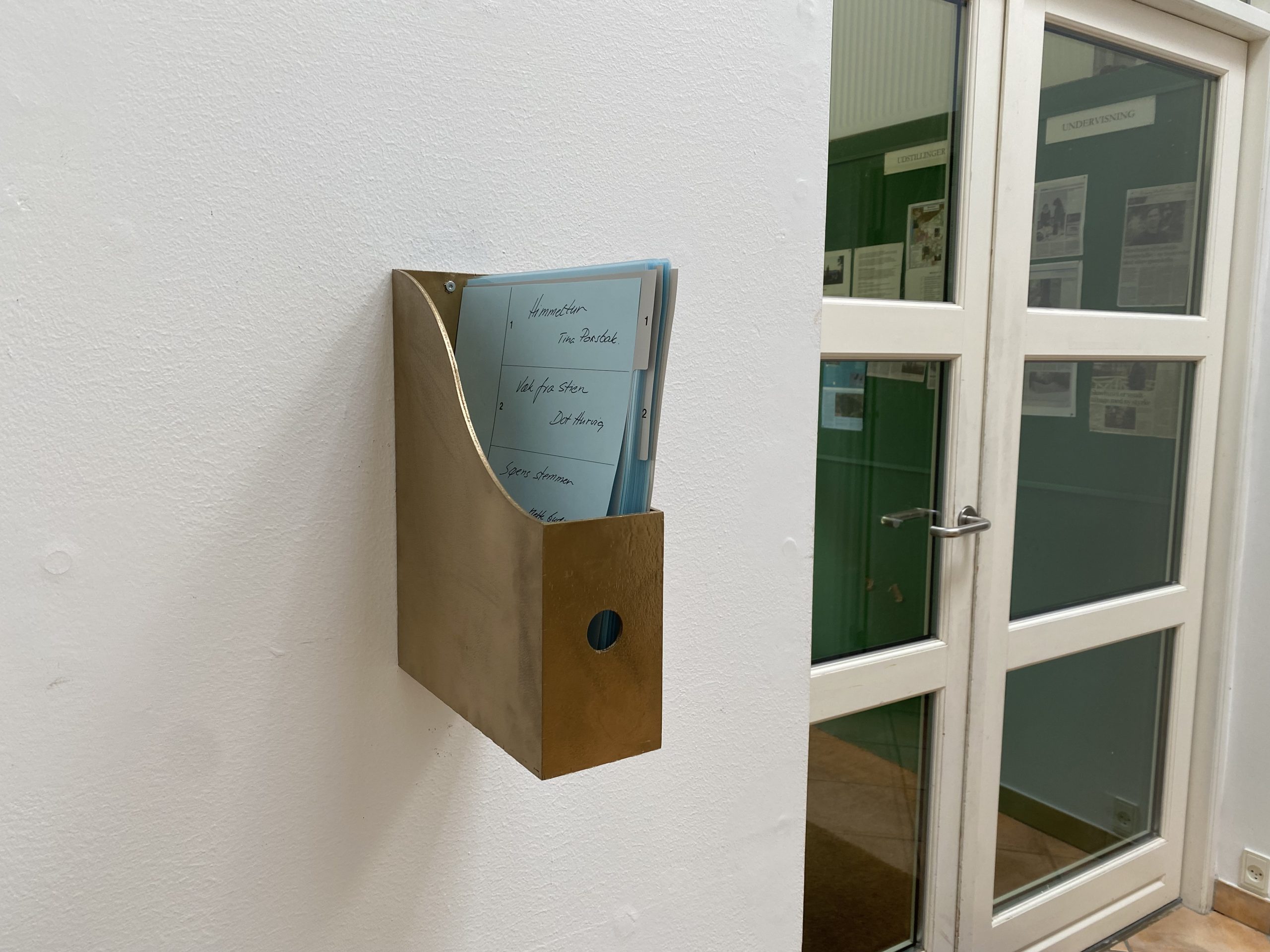 Photo: Mette Kit Jensen

"A Walk In The Park" is a very open work of art, which involves people, makes them leave the building to explore the nature around SKOVHUSET. At the exit in front of the reception stands a collection of walking sticks with animal heads in an elongated stick stand. The public can borrow a walking stick for a mortgage and are then encouraged to leave the building and explore the surroundings. 

The exhibition "The Great Outdoors" is about our relationship with nature and the work stems from the tradition of older elegant walking sticks for urban walks being equipped with animal heads that relate to wild nature.

The work is simple (a walk in the park). Many of us walk in the parks with our iPhones and photograph the vegetation and funny episodes. What associations and new images can we get when we go for a walk in the forest with a walking stick, the flâneur's elegant accessory? By adding a fictitious element to the walk, it becomes possible to highlight existing vegetation and breeding spots in the forest and play around with new ones.

The cane has the double character of utility object and elegant attribute, it offers support but also the opportunity to pose and thus becomes a humorous image of our slightly awkward relationship with nature. We rarely leave the familiar paths in the forest and do not often shift our gaze from the most obvious. Perhaps the cane can become a crutch that can help us forget routines and help us through a thicket and across paths?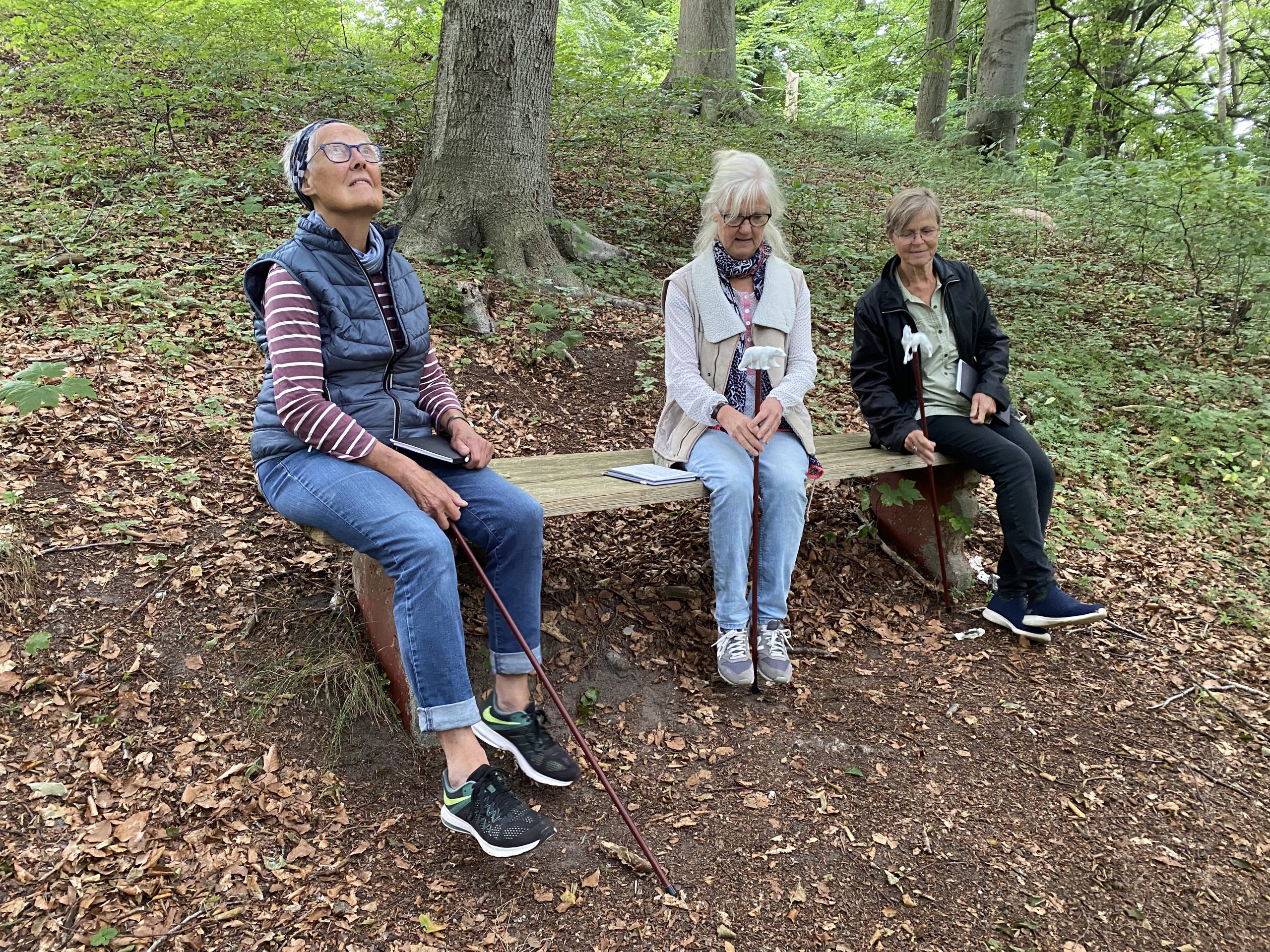 Dot Hurvig, Tina Porsbak og Anne-Mette Gudmundsen, værtinder i Skovhuset undersøger skoven for at udvikle manualer til publikum. Foto: Mette Kit Jensen

The handles are made from second hand plastic toy animals found on countless walks to flea markets, the toys have been painted and varnished.

When handing in the sticks, the audience is given a small business card with a stamp as proof of the walk. They are encouraged to post pictures and text on Instagram as inspiration for other walkers.

The hostesses in SKOVHUSET took part in a workshop in the forest, after which they created a series of manuals suggesting walks for the public.