Photo: Christian Ravn Brems
/// Scroll down for english

FILM - Doku 9:47 minutter af JLSchou.
Den første gang på den anden side. Art Week Cph DK 2019
Performance på Københavns Kanaler 90 minutter.
Manuskriptet til denne performance bygger på personlige samtaler med beboerne i Bleckede samt 3 måneders research i de lokale arkiver vinteren 2003 og et besøg i byen i 2019. Navne er blevet ændret og de historiske begivenheder omskrevet til en fiktion tilpasset Københavns kanaler.
Photo: Christian Ravn Brems

Floden gennem byen havde i 40 år fungeret som grænse mellem Øst- og Vesttyskland, men i november 1989 blev færgefarten genoptaget og man kunne igen komme over på den anden side og besøge naboer og familiemedlemmer. Mette Kit Jensen lavede under sit ophold på Künstlerstätte Schloss Bleckede en række interviews med indbyggere på begge sider om tanker og følelser af for første gang at sejle over på den anden side efter grænsens ophævelse.
Photo: Christian Ravn Brems
Publikum fik udleveret et visitkort med et nyt navn og identitet. Efterhånden som fortællingen skred frem indgik navnene i beskrivelser af, hvorledes det blev oplevet at krydse den forbudte flod efter alle årene. Historierne blev akkompagneret af harmonikamusik.
Photo: Mette Kit Jensen

Manuskript/rekvisitter/performance: Mette Kit Jensen
Harmonika/performance: Kai-Aage Andersen
Letmatros/performance: Sally Ravn
Kurateret af Christina Wilson, Art Week Cph
Performancen er en videreudvikling af et offentligt værk i Bleckede fra 2003:
Der erste Besuch auf der anderen Elbseite

Tak til
Beboerne i Bleckede, Künstlerstätte Schloss Bleckede, Landesstipendium Lüneburg DE
ZKU Berlin DE, Art Week CPH DK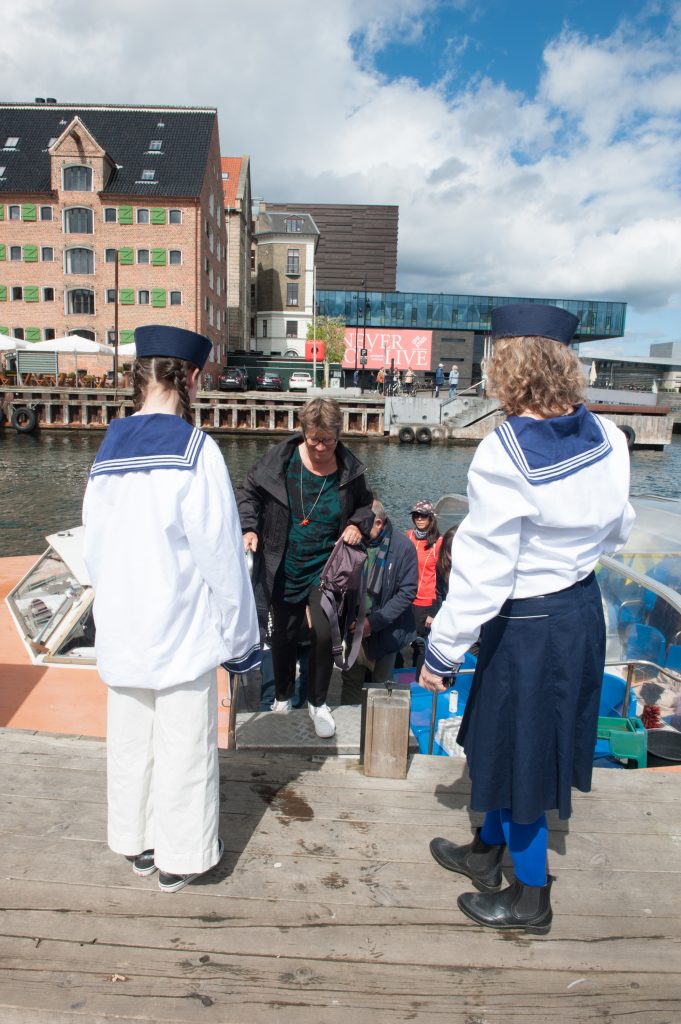 Photo: Christian Ravn Brems
The first time on the other side. Art Week Cph DK 2019
Performance on the Copenhagen Canals 90 minutes.

The manuscript for this performance is based on personal conversations with the residents of Bleckede as well as 3 months of research in the local archives in winter 2003, and a visit to the city in 2019. Names have been changed and the historical events rewritten into a fiction adapted to Copenhagen's channels.
The river through the city had for 40 years served as a border between East and West Germany, but in December 1989 the ferry service returned and again it became possible to visit neighbors and family members. Mette Kit Jensen made, during his stay at Künstlerstätte Schloss Bleckede, a number of interviews with residents on both sides about thoughts and feelings, when they for the first time sailed to the other side after the border's abolition.
The public was given an identity card with a new name and identity. As the story progressed, the names were included in descriptions of how it was experienced to cross the forbidden river after all the years. The stories were accompanied by accordion music.
The performance is a further development of a public work in Bleckede from 2003:
Der erste Besuch auf der anderen Elbseite
Manuscript / props / performance: Mette Kit Jensen
Accordion/ performance: Kai-Aage Andersen
Sailor / performance: Sally Ravn
Curated by Christina Wilson, Art Week Cph

Thanks to
The residents of Bleckede, Künstlerstätte Schloss Bleckede DE,
Landesstipendium Lüneburg DE, ZKU Berlin DE, Art Week CPH DK