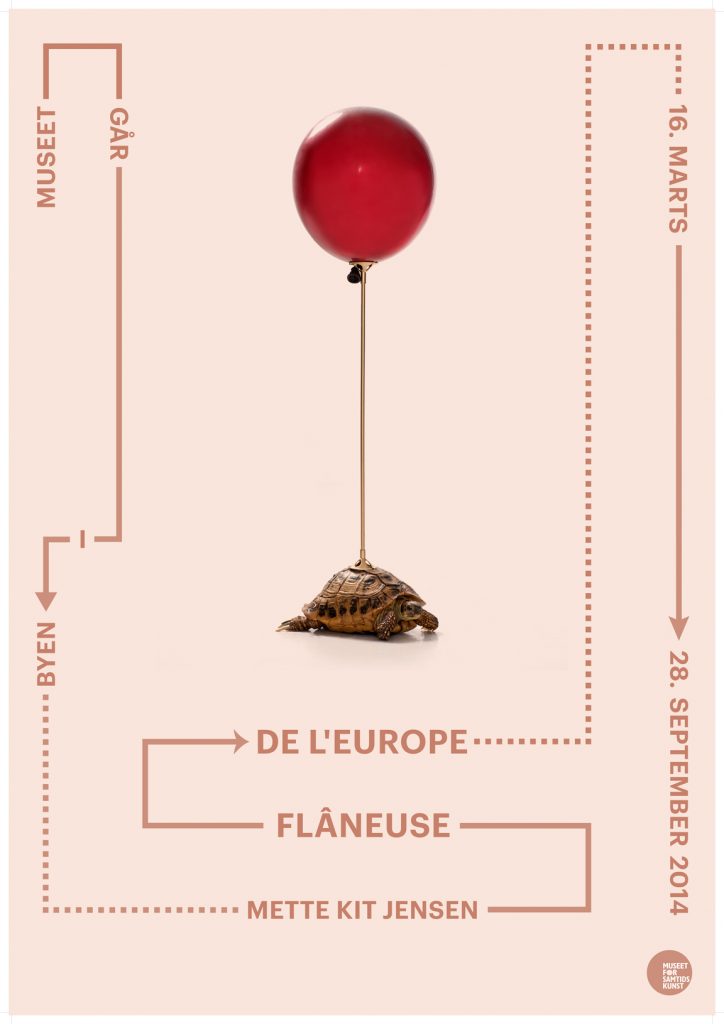 ///Scroll down for english
PARIS

BERLIN

Flâneuse De l'Europe
Roskilde byrum og Museet for Samtidskunst, marts – september 2014.

"Flâneuse De l'Europe" er en audio walk gennem Roskilde byrum. Undervejs i byvandringen bliver der fortalt autentiske historier fra flaneringer i andre byrum i Europa bla. Athen, Rom, Istanbul, Berlin, Hamburg og Paris. En vandring i en dansk provinsby sender den gående af sted på en tur rundt i Europa med historier om møder, forvekslinger, episoder, dagligdag og finanskrise observeret fra gadeplan.

Fortællingerne er koordineret i forhold til konkrete steder som visuelt og fysisk binder historierne til lokale gader og pladser. Reallyde optaget on location i Roskilde by skaber nærvær og binder historierne sammen. Én kvindestemmer guider publikum gennem Roskilde i følgeskab af en imaginær skildpadde, en anden laver flashback til episoder i andre byer.

Publikum får udleveret en publikation sammen med Mp3 afspilleren med lydfilen. Bogen har Accessorie karakter og indlagt et kort over Roskilde samt trykte tekster og billeder af forskellige elegante artefakter i form af modererede objekter. Objekterne er lavet af bearbejdede, fundne genstande fra loppemarkeder og gadehandlere i Europa og fabulerer over historiske flanør accessoirers.
Projektet er blevet til på baggrund af flere års materiale indsamlet ved at Mette Kit Jensens har gennemtravet forskellige byrum, skrevet historier ned og indsamlet genstande.
Lyd: Krister Moltzen
Speak: Mette kit Jensen, Louise Witt-Hansen
Grafisk design: Pulsk Ravn
Fotos: Marc Fluri
Korrektur: Trine Kit Jensen
Dokumentation: Jeanette Land Schou
Forord til bogen: Sanne Kofod Olsen
Tak til Bent Olsen for udlån af skildpadden Skjold, de danske institutter i Rom og Athen, Museet for Samtidskunst, Statens Kunstråd, Roskilde Kulturpulje og Nordea-fonden
Bogen samt dokumentation på DVD kan fås ved henvendelse til kunstneren.
HØR LYDFILEN
http://samtidskunst.dk/udstillinger/flaneuse-de-leurope

se anmeldelse:
http://www.kunsten.nu/artikler/artikel.php?mette+kit+jensen+flaneuse+de+leurope+mfsk

Bog "Flâneuse DE l'Europe", 56 sider tekst, kort og objekter.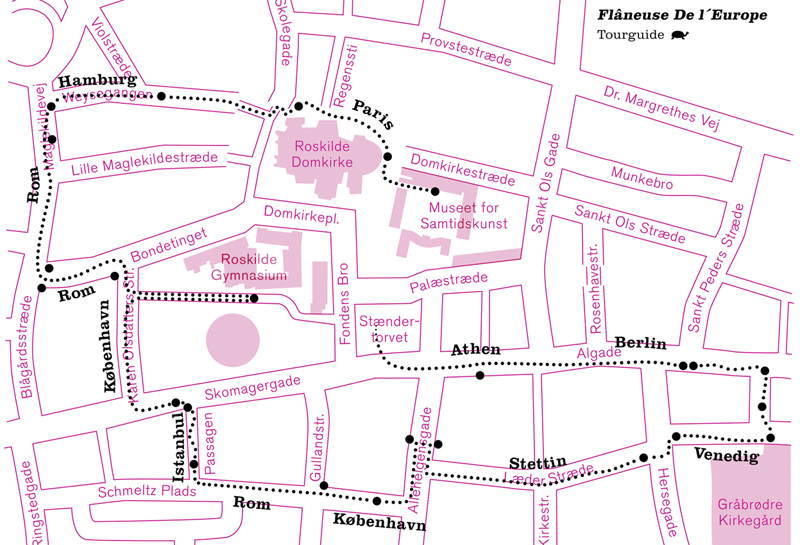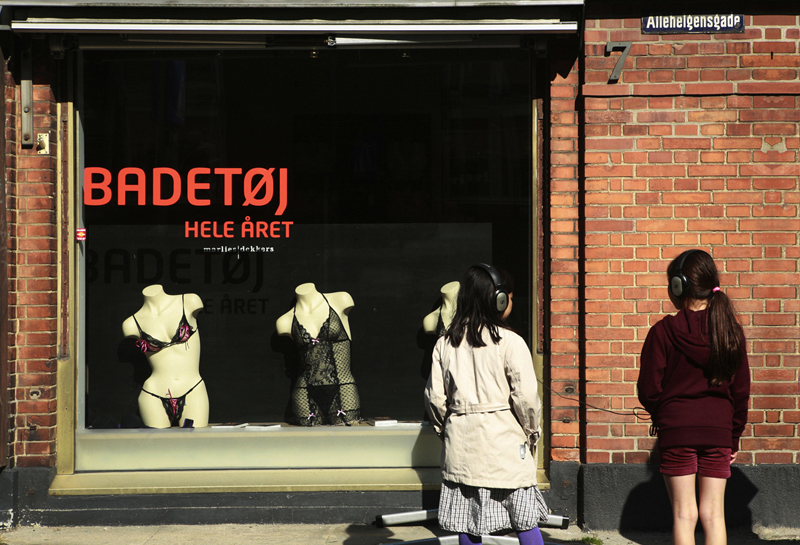 40 minutters audioguide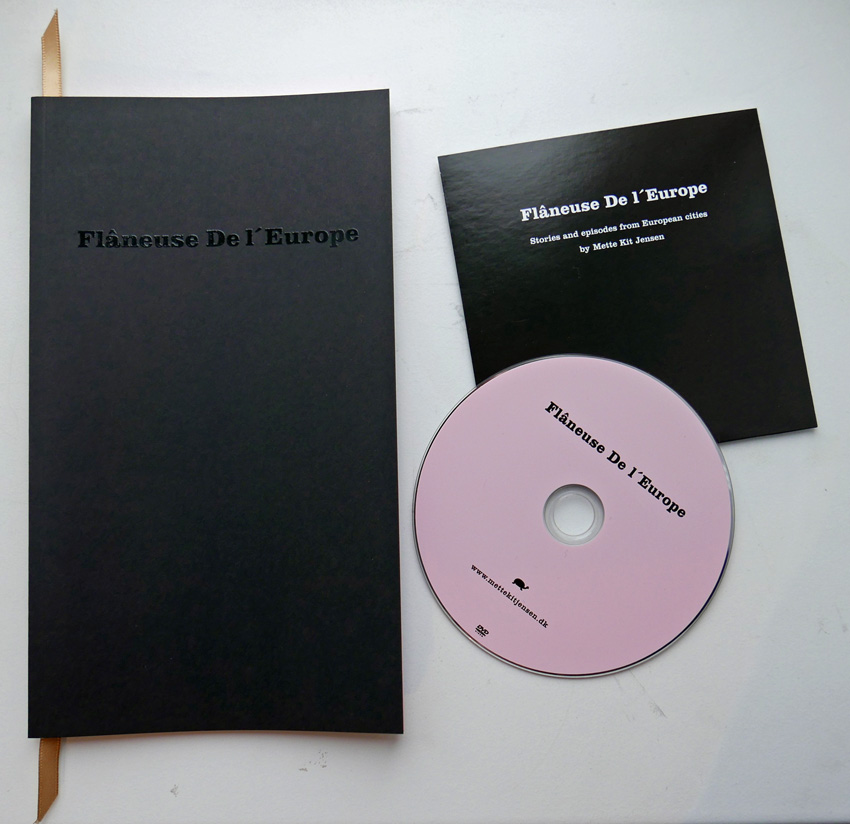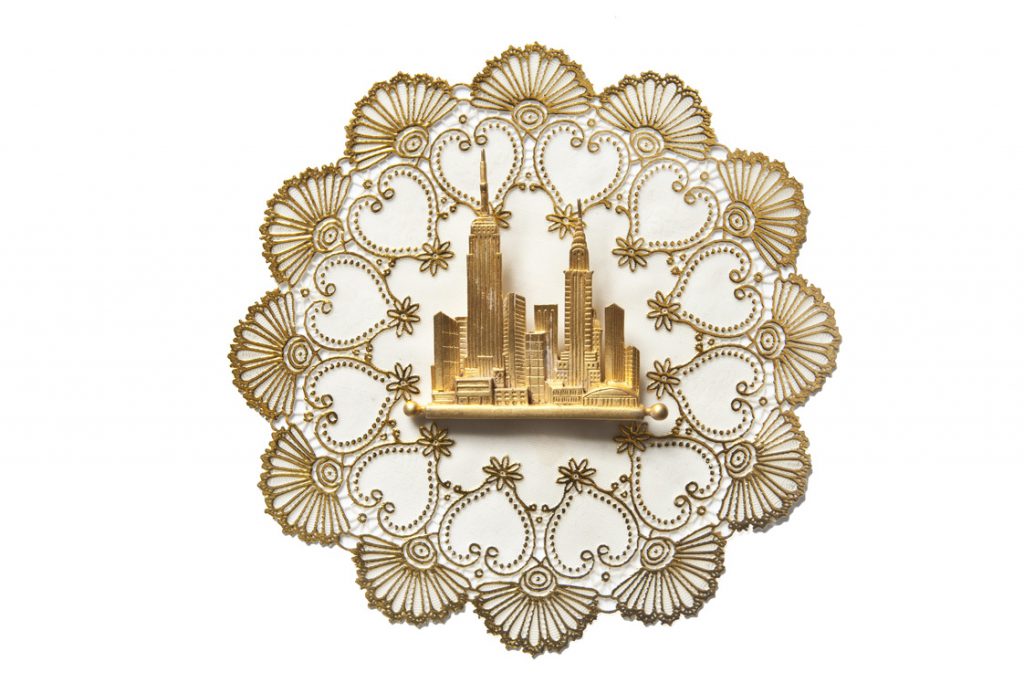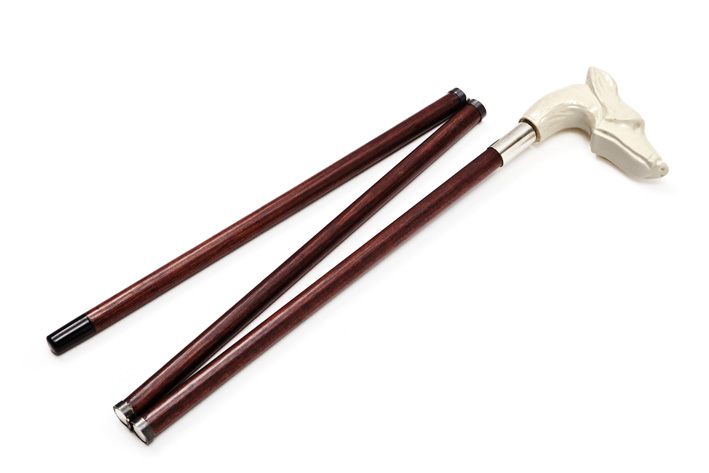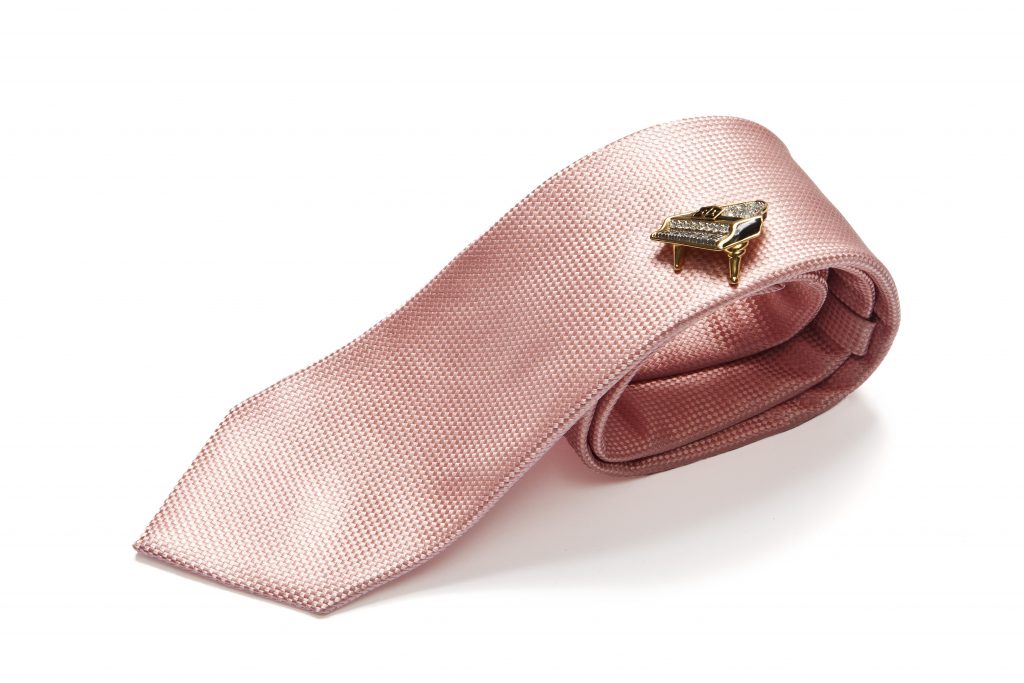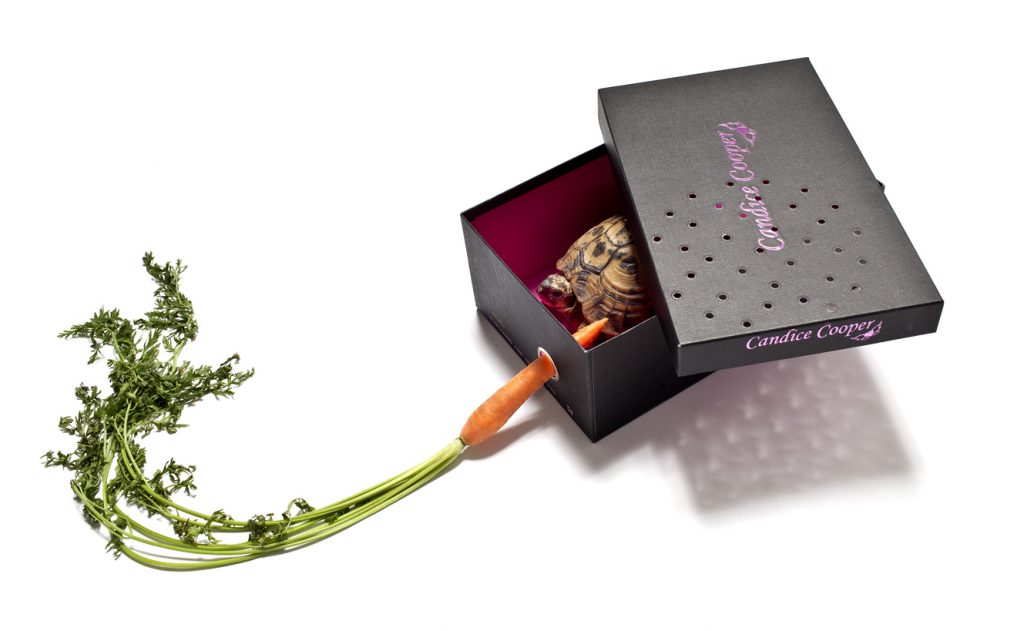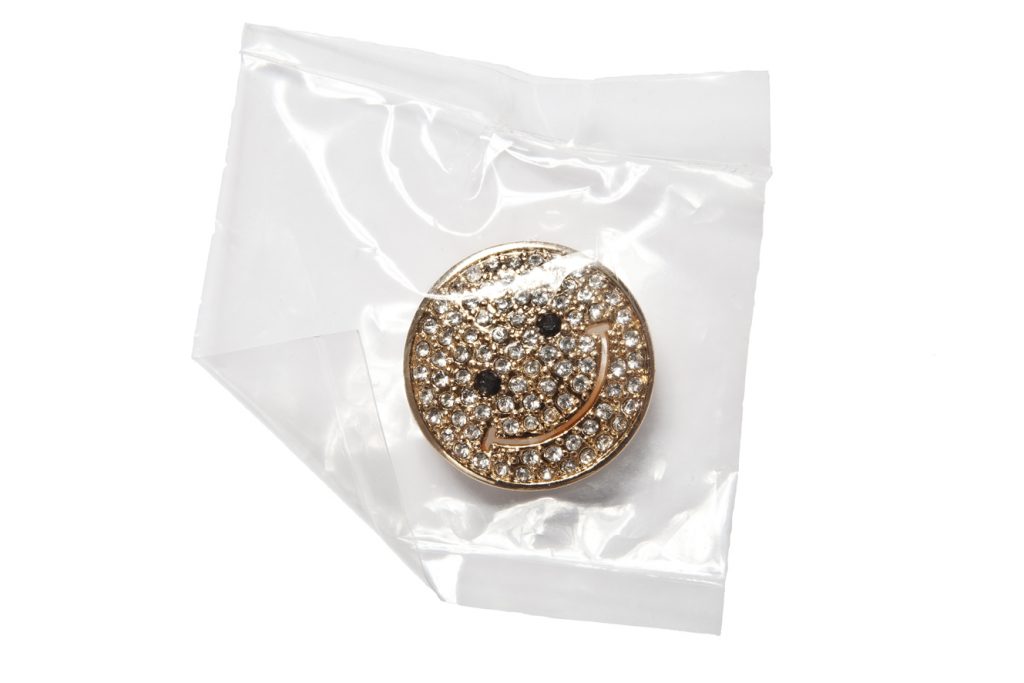 ----
Flâneuse de l'Europe
Roskilde city space and Museet for Samtidskunst, Museum of Contemporary Art, March – September 2014

"Flâneuse de l'Europe" is an audio walk through the Roskilde city space. During this city walk, authentic stories are told of strolling through other city spaces in Europe, among these Athens, Rome, Istanbul, Berlin, Hamburg and Paris. A stroll through this Danish provincial city sends the walker on a tour round Europe, complete with stories about meetings, mix-ups, episodes, everyday life and financial crisis as observed from street level.

The stories are coordinated with regard to specific locations, visually and physically tying these stories to local streets and squares. Real sounds recorded on location in Roskilde create presence and further tie the stories together. One female voice guides the audience through Roskilde in the company of an imaginary tortoise, another one provides flashbacks to episodes in other cities.
See example: https://www.youtube.com/watch?v=LkfnVLt7cBI

The audience are supplied with a publication as well as an mp3 player with the sound file. The book resembles a fashion accessory and comes with an enclosed map of Roskilde, printed texts and images of various elegant artefacts in the form of modified objects. The objects are made of processed found objects obtained from various European flea markets and street vendors and fantasise on historical flâneur accessories.

The project has come into being as the result of several years of collecting material when Mette Kit Jensen has traversed the different city spaces, written down stories and gathered objects.
Sound: Krister Moltzen
Graphic Design: Pulsk Ravn
Photos: Marc Fluri
Proof reading: Trine Kit Jensen
Documentation: Jeanette Land Schou

Thanks to Bent Olsen, the Danish institutes in Rome and Athens, the Museum of Contemporary Art Roskilde, the Danish Arts Council, Roskilde Kulturpulje and Nordea-fonden

http://samtidskunst.dk/en/exhibitions/flaneuse-de-leurope
Documentation on DVD can be obtained from the artist.
PDF BOOK: