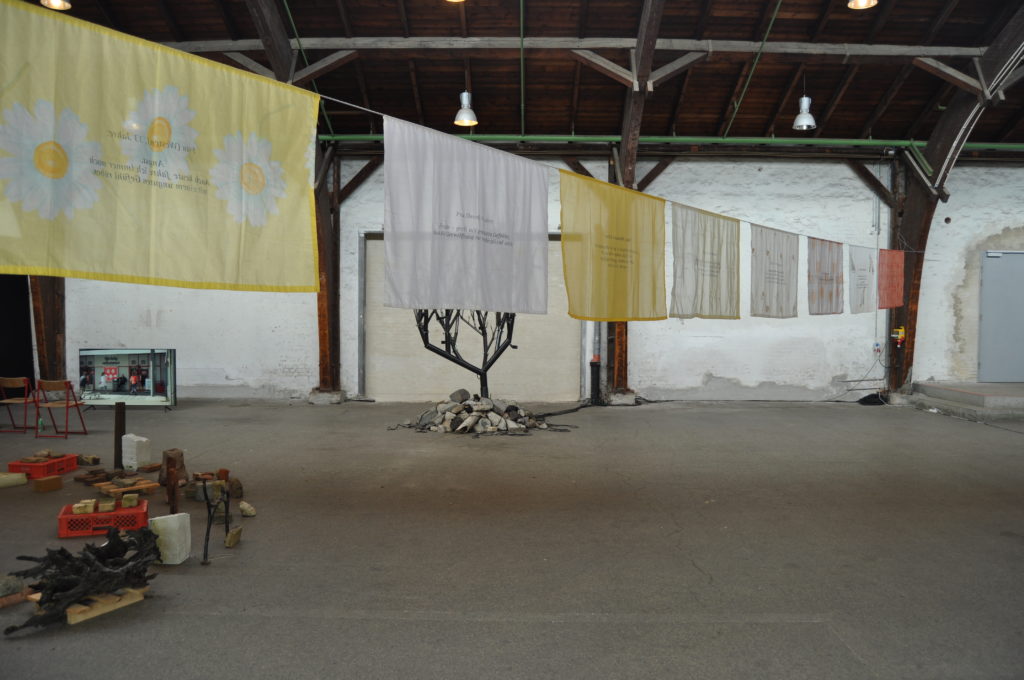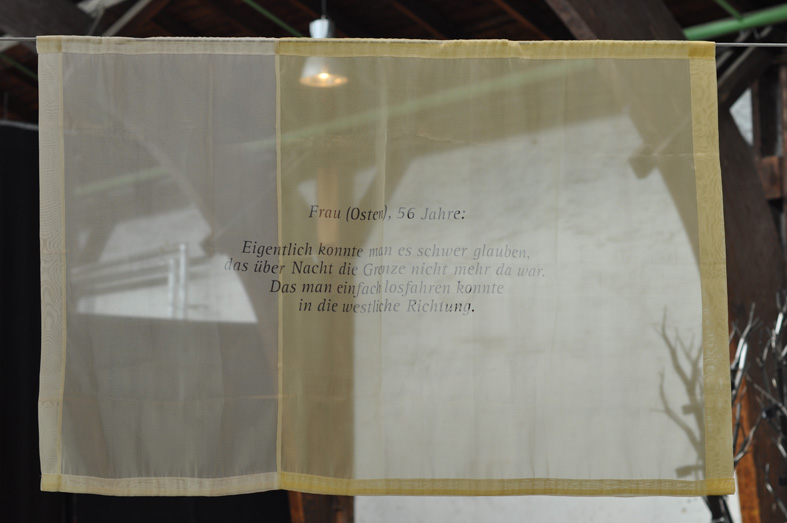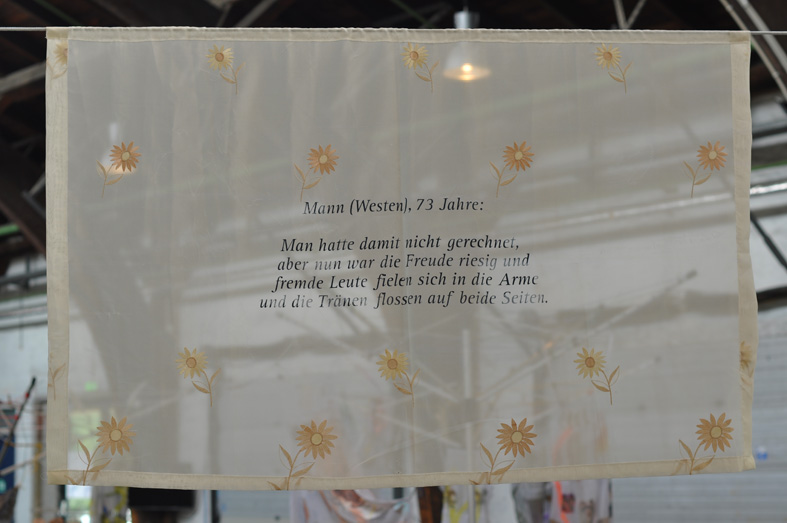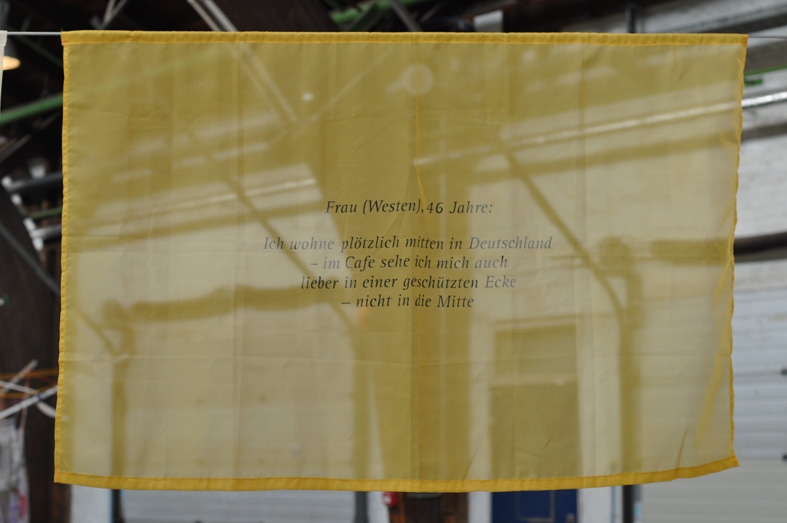 Gängeviertel Hamburg, film: Veronika Froch
/// scroll down for english
"always together - mostly happy" Århus/Hamburg 2020
Kurateret af Carsten Rabe og Mette Juul
Værkerne er en videreudvikling af et offentligt værk fra Bleckede i 2003.
Fra januar til april 2003 boede jeg i Bleckede, en kunstnerresidence i Nordtyskland. Mens jeg studerede de lokale arkiver, opdagede jeg, at floden uden for mit vindue tidligere havde defineret grænsen mellem Øst- og Vesttyskland. I løbet af de 40 år havde floden delt landsbyen. Det var forbudt og forbundet med stor fare at krydse den. Jeg besluttede at undersøge, hvordan borgernes forhold til det omkringliggende landskab var blevet påvirket af det tabu, denne historiske begivenhed havde skabt. Jeg interviewede folk fra begge sider af floden for at høre deres tanker og følelser angående den første dag, de i 1989 fik lov til at krydse floden. Jeg udvalgte derefter sætninger, som blev trykt på gardiner, der blev hængt op i de lokale udsigttårne, hvor man kunne se begge sider af floden.
Under ArtWeekCph 2019 skrev jeg en interviewene om til en fiktion,
som foregik på en havnerundfartsbåd i Københavns Havn,
Performance: Sally Ravn, Kai-Aage Andersen, Mette Kit Jensen
Harmonika: Kai-Aage Andersen
Manuskript, rekvisitter og performance: Mette Kit Jensen
Dokumentation: Jeanette Land Schou
I forbindelse med udstillingen initierede Carsten Rabe A CORONA DIARY heri kunne man læse mit dagbog "Distant Love"
Dette projekt indgik i det tysk danske venskabsår 2020 - et samarbejdsinitiativ mellem det tyske udenrigsministerium, Goetheinstituttet og Statens Kunstfond (DK) der fejrede det årtier lange naboskab og kulturelle fællesskab gennem Danmark og Tyskland.
Tak til Kulturministeriets pulje for sommeraktiviteter i Danmark

SE: Den første gang på den anden side. Art Week Cph DK 2019
SE: Der erste Besuch auf der anderen Elbseite 2003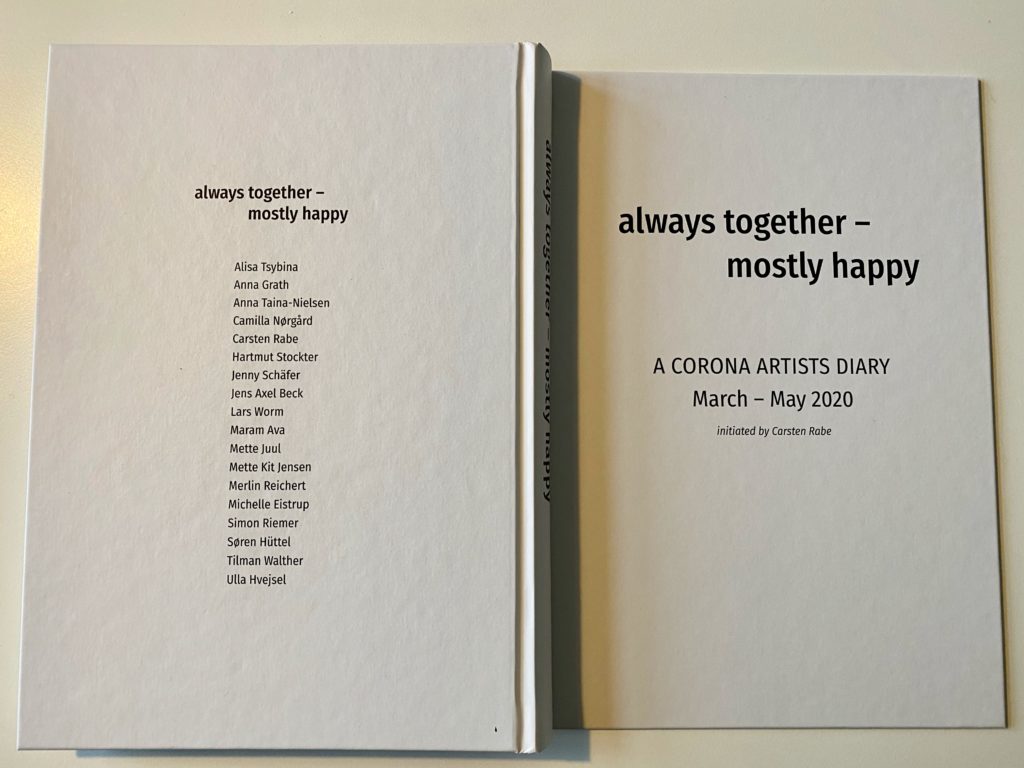 "always together - mostly happy" Århus/Hamburg 2020
Curated by Carsten Rabe og Mette Juul
The works are a development of a public work from Bleckede in 2003.
From January to April 2003, I lived in Bleckede, an artists' residence in northern Germany. While studying the local archives, I discovered that the river outside my window had previously defined the border between East and West Germany. During the 40 years the river had divided the village. It was forbidden and associated with great danger to cross it. I decided to investigate how the citizens' relationship to the surrounding landscape had been affected by the taboo this historical event had created. I interviewed people from both sides of the river to hear their thoughts and feelings regarding the first day they were allowed to cross the river in 1989. I selected sentences, printed them on curtains that were hung up in the local lookout towers where one could see both sides of the river.
During ArtWeekCph 2019, I rewrote the interviews into a fiction,
which took place on a harbor cruise boat in the Port of Copenhagen,
Performance: Sally Ravn, Kai-Aage Andersen, Mette Kit Jensen
Accordion: Kai-Aage Andersen
Manuscript, props and performance: Mette Kit Jensen
Documentation: Jeanette Land Schou
In connection with the exhibition, Carsten Rabe initiated A CORONA DIARY in which you could read my diary Distant Love
This project was part of the german-danish cultural friendship year 2020- a comprehensive and collaborative initative of german federal foreign office and the goethe-institut, celebrating and developing the decades-long relationship of grounded in common values and interests, setting an international example of peaceful coexistence in 21st century
SEE: The first time on the other side. Art Week Cph DK 2019
SEE: Der erste Besuch auf der anderen Elbseite 2003